BirdDeter Frequently Asked Questions
How do I identify the bird species that is causing my damage?
Visit our pest bird identification page.
How large an area can the BirdDeter system protect?
One standard BirdDeter system will protect between 10 and 100 acres, depending on local conditions, bird species and behaviour. To assist you in tailoring a system to suit your situation, please contact us.
How does the remote control unit work?
The remote control unit enables activation and deactivation of the unit at up to 3km distance in clear sight of the deterrent module. One remote control can activate several deterrent units at once (or individually) by selecting the appropriate channel on the remote.
I have crops that ripen at different times. Can I move the BirdDeter system around?
The unit's modular construction enables ease of relocation around your crop to meet changing crop ripening sequences. It may be mounted on tripods, poles, trailers or grape posts.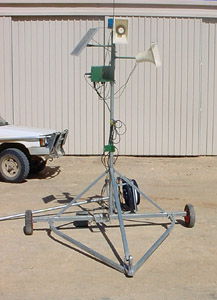 Will the BirdDeter system suit my situation?
BirdDeter systems have been used successfully by growers across Australia in the following crops: grapes, berries, cherries, stone and pome fruits, nuts, tropical and sub-tropical fruits and broadacre.
Moreover, BirdDeter system have been used effectively in a variety of industrial applications. To learn more about the applications, visit our solutions page or contact us.