The BirdDeter radar time and date records all bird activity within its detection zone to the nearest second. Performance of the system is therefore well documented. Bird activity data has been recorded in many horticultural situations and has been correlated with good outcomes.
Although bird activity in an area is subject to complex environmental factors, indications that control is taking place can be seen by the following trends in the bird activity data:
With the BirdDeter system in operation the afternoon peak in bird activity will be smaller than the morning peak.
Bird activity becomes more clustered rather than evenly distributed throughout periods of bird activity.
Although the time and magnitude of a bird activity may change, the duration of the peak, (ie. the time taken to clear the birds) does not change.
Bird activity in general is reduced.
The radar is therefore a valuable tool not only because of its responsiveness (see "Learning Theory and Learning Theory ") but also because it provides continuos evaluation of performance and the development of strategy, ie. "Good measurement leads to better management."

Forest Products Commission, Summary of Court Block Bird Activity Data 2004 (0.8Mb)

Evaluation of BirdDeter System for Bird Control in Apples
DPI trial by Page and Nimmo, Granite Belt Horticultural Research Station.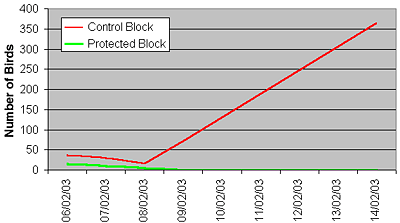 The Granite Belt Horticultural Research Station conducted a trial to determine the effectiveness of the BirdDeter system. The report found that the apple orchard protected by the BirdDeter system suffered 0.15% to 0.64% crop damage, while the unprotected orchard suffered 6.8% to 38.5% damage (depending on the apple variety).

Department of Primary Industries Agricultural Production Group, "Evaluation of BirdDeter System for Bird Control in Apples." (0.5Mb)

Ibis population reduction from Suntown Landfill
Data from ECO-SURE environmental consultants.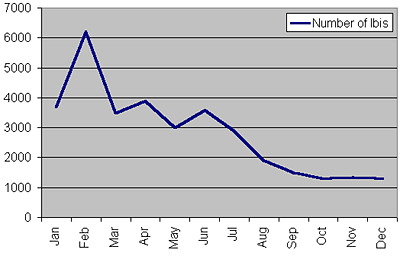 The BirdDeter system has been used effectively with Suntown Landfill (Gold Coast) to reduce the number of scavenging Ibis.

Next: Radar system.