Bird protection for airports and aircraft
Bird collision with aircraft is commonly referred to as "birdstrike". This damage is caused by one or more birds striking the fuselage or engine of the aircraft while it is landing, taking-off or in flight.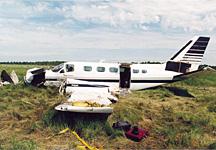 Bird Control Along Runways
More than 90 percent of bird strikes at runways occur close to the ground. The radar developed by Vigilance Technologies has been specifically developed to detect birds close to the ground. The Vigilance radar specifically includes signal processing to remove any ground clutter, which is problematic for most other types of radar.
A runway bird detection and control system can be configured as follows:

Each radar detection zone shown as an ellipse, will detect birds approaching the runway. The blue dots show the position of deterrent stations used to drive birds in the opposite direction. As deterrent stations are portable, their positions can be adjusted to suit the bird pressure profile along the runway.
The radar can be mounted on frangible poles, with only the antenna on top of the pole. The electronics can be mounted at ground level or below. If runway power is not used, solar panels can be used just above ground level to recharge batteries located in below ground pits. For more information fax back your details or contact us.
The BirdDeter system also monitors and records the number of birds, and peak bird activity times. This assists airport managers in developing bird management strategies and gathering information on the risk of birdstrikes.
BirdDeter systems are highly portable as all parts of the system are connected by radio. This enables the system to be located where it is needed most. Bird control systems that remain static will become ineffective. (image)